Many youth and their families have achieved great successes following their treatment at Frontenac Youth Services, through their perseverance and partnership with dedicated and caring staff. Documented here are just some of their stories about rediscovering hope and their path toward success.
What clients/caregivers are saying about Frontenac Youth Services:
Clients
"I really liked this service and they helped me improve my behaviour; I enjoyed my time here."
"I liked how they supported you and care about whatever you say."
"I liked how you could open up and talk about your emotions."
"I could be open and honest in all my sessions."
"My counsellor was pretty cool, the program was effective."
Caregivers
"Frontenac was able to give me my son back; our counsellor was able to give us different approaches and mindset."
"As a single mom I had no help and I knew I needed it; Frontenac counselled me as well as my son and never judged us."
"There are a lot of different programs for different needs and everyone is knowledgeable and helpful."
"Privacy and Confidentiality respected."
"Lots of resources available."
Success Story – November 12, 2021
A few years ago, I was in a rough place. I had just left catholic school because I was accepted into an art school. I was stuck in an abusive friendship and my relationship with my parents was awful. The biggest issue was my dad's girlfriend. She would call me horrible homophobic slurs. I was maybe 14/15. with schoolwork on top of all my stressors I felt like my head just couldn't break the surface of the water and I wasn't able to breathe. I went to my guidance counsellor, and she recommended Frontenac. I came in on a random afternoon for a session and I didn't know how much it would change my life. I was paired with a kind woman who had me talk through my issues with her. The main issue was that I had wanted to end my life and I almost did. I was so close, but I didn't do it. It was appealing to not be in so much turmoil. I never imagined myself graduating high school.
Not that I would necessarily end my life, just that I couldn't picture myself making it that far. I always thought I would be dead.
The lady had me close my eyes and tell her what my first day of college would look like. I told her that it would be me in a cute outfit, walking downtown Toronto with an expensive Starbucks drink (broke high school student) music blasting in my headphones, getting on the subway and going to where I needed to be. Work, meeting a friend, school… wherever. I just needed freedom.
A few weeks ago, it happened. I was walking to meet my friend at Nathan Phillips Square, with a Starbucks refresher in my hand, and Doja cat blasting through my air pods. I was also less than 5 minutes from the restaurant I work at. When I was waiting for my friend, I realized that I'd done it. I was strong enough and I had made it. I was literally living my dream. The one thought that kept me motivated for the remainder of my schooling.
I wish I could thank this lady who was my crisis counsellor. Frontenac changed my life and they saved it. If you are struggling, please go to Frontenac. It is a free clinic, and they genuinely want to see you at your best. Thank you so much Frontenac for saving me.
Fire
I am a girl with a fire in her brain.  The fire burns with rage and sadness.  Sometimes it crackles with excitement and cheer.  Sometimes the fire lays dormant and I feel nothing; but sometimes the nothingness is more than I can bear.  I am a girl with A.D.H.D., borderline personality disorder, and bipolar disorder, and that's okay.
It all started on a summer night, I was ten years old and had just come home from a friend's house.  Father was angry because I did something I shouldn't have.  I interpreted his words in a way that no one else would understand.  "Don't do that meant", "You idiot!" and "How could you", meant "You Failure!"  When my father left the room, I turned to my mother and told her I wanted to die.  It was the first time I ever admitted that to myself or anyone else.  My mother looked at me and said that I would be punished by God.  That's when it all started.  The self-harm, the suicidal attempts and all the bad thoughts in my head.  This was the beginning of a long list of painful events that would change my life forever.
In the sixth grade, the depression started to affect school.  I was late almost every day, my grades dropped from eighties to sixties, and my relationship with my teacher was horrendous.  Because of this, my father started hitting me, which made the depression worse and worse.
At the age of sixteen, my track record consisted of five failed suicide attempts, hundreds of scars on my left forearm and the word "worthless" carved into my left calf.  I had medication, but I wasn't taking it, and I was lying to my psychiatrist about the severity of my condition.  I had been hallucinating and wasn't sleeping nearly as much as a healthy person sleeps.  At this point, my parents didn't know what to do with me anymore, so they called Frontenac regarding residential treatment for mentally ill youth.  This was the most pivotal moment of my life, and I didn't even know it yet.
When I arrived at the residence, I fell frozen with fear.  I hadn't left my house in over a year and had lost all my friends.  My social skills were completely erased, and I couldn't even eat in public for fear of what others might think of me. "What if nobody likes me?" I thought.  I fretted that the walls I had built would quickly come crumbling down around me, and I would be bruised and broken again.  However, with individual therapy, I slowly came around and people began to accept me.  Not too long after my first week at Frontenac ended, I started day treatment at Grove School and treatment centre.  I made a considerable amount of progress there, and graduated on to another day treatment program at Central Collegiate Institute.  Eventually the good days began to outweigh the bad days and I started talking with the staff about being discharged back to my parent's house.
Now I've finished high school, had two jobs and am looking for my third, and I've even won an award for graduating high school despite all the obstacles I faced.  Even now I have good days and bad days.  Some days I don't even know how to feel, but the good days continue to outweigh the bad days, and for that I am eternally grateful.  I am a girl with A.D.H.D., borderline personality disorder, and bipolar disorder, and I am okay.
Emily*
*Due to confidentiality, Emily is an alias name for a former client of Frontenac Youth Services
Getting Back Up Again
— by A.V.
Throughout this unit, I have touched on what events in my life have had both positive as well as negative effects on it. Choosing one core event that changed my life the most was easy because I'm still affected by it today. In 2014 I started high school. I was an average "minor niner". I had the same fears as other students; the standard "What if" fears. Although most of my fears were normal for a 14 year old, I also had fears that went beyond the threshold of high school fears, even college fears! Of course I worried about how I looked in the morning, but at the same time I worried about things that an adult would have to worry about. For example, having money for rent, having money for food, having money to do laundry, budgeting my money to save up for university, even worrying about the state of the car I couldn't even drive at the time.
As my anxieties and worries got more severe, my stress level was bursting through the roof like Santa Claus in a lit chimney. My stress was unfortunately accompanied by multiple symptoms. The most significant ones being emotional fatigue, nausea, and depression. Each day my patience was thinning, as well as my ability to cope. In elementary school I was in a classroom environment that helped me develop coping mechanisms as well as positive ways to handle challenges. Stress and anxieties seemed to fill my entire brain, often out-ranking my reason. Looking back to this event, not only was I feeling pressured about a lot, I was putting pressure on myself as well. I remember eliminating attending college because I knew I was destined for bigger and better. University has always called my name since day one.
After just one month of school, I was fed up. I was depressed, stressed, and ready to quit everything. I hated going to school because I was failing in my classes and I felt my teachers were disappointed in me. I'd like to say that's the reason why I hated school … truth is, I got bullied – a lot. A group of four specific girls had started insulting me during French class …. then during Math class …. then in my head. You can categorize it as mentally ill, but I was hearing their voices in my head, calling me names, telling me horrible things. As much as I don't want to admit it, they won. I tried so hard to ignore them, I even asked them kindly why they had an issue with me. But it didn't seem to matter, they never stopped. They broke me down to the point I was getting physically sick on the walk to school. When I did make it to the school property, I would skip first class (the daily beginning of the harassment), then call to go home second period. Home was the only "safe haven" for me at this time. I no longer cared about my dreams of attending a fine University or how I would be affected in the long run. On the rare occasion I would stay until dismissal, I remember watching the clock, feeling like it was going backwards. Each tick of the clock filling me with more thoughts, fears and worries.
The bullying got so bad that the Principal, via the Police Liaison Officer, threatened the girls with legal actions. But the bullies didn't seem to care. They never let up. They bad mouthed me on social media, they spread rumours about me at school, they openly made jokes about me and laughed, and at one point there was even threats of physical violence made towards me. All I could do was wonder "why me"? I had never even so much as looked at these kids wrong. My mother was sick and tired of the way I was treated and told me she didn't want me returning to the French class, where most of the daily bullying took place. My inability to cope with conflicts thrown my way affected my school work because I rarely showed up to classes, often hiding in the bathrooms crying to my mom on the phone. I wanted to blame these girls for making me fail, but I know they didn't control my decision to stay home or skip class. The world is a scary place to face when you've used all your conflict resolution and coping skills to no avail. For the first time in my academic life, I had a failing mark.
Failing the class broke my heart. It really did. I was just thankful the semester was over. I couldn't bare a second semester at that school, so my counsellor through Frontenac Youth Services got me a spot back in the Grove classroom. From there I had a bully-free environment, the time to focus on my work and an opportunity to get my math credit. Failing the course showed me that I was almost an adult. I was responsible for myself and I was the only one capable of affecting myself. I started off this essay with the intention of my big life changing even being how I started to take High School seriously. It still is the main idea, but now it's a completely different realization. I learned that running away from conflicts and life will only affect me. I failed while those girls passed, because I chose to run away. So I learned to focus on my academic work because the work I do in the four years of High School possibly depicts where I will end up in 10 years. This even changed my life because I realized I am in charge of my own feelings that nobody else has the power to make me feel bad or bullied again. As horrible as my first exposure to high school was I am able to take some knowledge away from the situation and also some personal growth. I also know my mental awareness today is from one own hard work and struggles. I couldn't have done it without the help of Frontenac and their CYW's and the Grove classroom.
Hello, my name is Tom and I first came to Frontenac Youth Services because I had a severe mental health diagnosis. The mental illness, and all the feelings it came with made it hard for me to do daily things. It affected all my relationships, my life at school, my life at home, and my life in the community.
It was really hard for my mom and I because she was coping with her own mental health issues. Our relationship was going downhill. Meanwhile, I had other things to worry about like school. My grades were dropping rapidly and I needed help.
Fortunately, I went to Frontenac Youth Services and spent 2 years there. I was in the residential program, day treatment, and individual and art therapy. All of these things helped me combat my mental health challenges. I built myself up with the support that was around me. Soon, I felt like I had more control of my life because I could set goals and achieve them.
I graduated from high school with honours and I'm going to be studying at Trent University. I know couldn't have done it without all the support I was given, so at my graduation, I got up in front of everyone and gave a thank you speech. I thanked everyone who supported me and I thanked Frontenac Youth Services for giving me the skills to cope and keep my dreams alive. I'll carry them with me for the rest of my life.
Frontenac Youth Services gave me the help I needed. I hope you get the help you need too.
  *Due to confidentiality, Tom is an alias name for a former client of Frontenac Youth Services.
Snapshots of My Self Worth
— By Cynthia
I'm 14 years old and I've been diagnosed with a mental illness. I've been in Art Therapy at Frontenac Youth Services for one year and these are my self portraits.
Month 1:
Month 11:
*Due to confidentiality, Cynthia is an alias name.
The Extra Mile
— by Roxanne
Frontenac Youth Services is an agency that changes lives. They changed mine in more ways than one.
My name is Roxanne and I was in Durham Children's Aid from the age of 8 to 21. I spent 3 years of my adolescent life in not only the Frontenac treatment home but the section classroom as well.
The staff goes that extra mile for the youth. Even after we have long moved out. They keep in contact and ensure we are staying on the right path.
I'm 24 years old now and I have graduated from the Police Foundations Program at Sheridan College and then I received a scholarship from the Association of Black Law Enforcers and took the Community and Justice Studies program there as well. In September I will be embarking on my third program; the Fundamentals of Fitness and Leadership. Once I have complete that, I will be applying to Peer Regional Police. None of this would have been made possible without Frontenac.
The section classrooms are based out of many different elementary and high schools in Durham The teachers and faculty push each and every student to do their personal best. They help ensure we don't fall behind so we are able to have an easy transition into the mainstream school system when ready.
Frontenac residence is more of a home. For many of us, we didn't have a stable place that was safe. Frontenac is that place for many youth. If there isn't enough funding to keep the doors open they'd have no where to go. I have lived in many group homes across the province and Frontenac ranks top. Sometimes it's the little things that really make the world of difference. I was one of many residents who didn't go on home visits during the weekend. Staff made sure we didn't feel left out or unwanted in any way – especially on holidays. Usually the house only had one or two residents on holidays. You would think things would go on as any normal weekend. Not at Frontenac. The staff took me to their families' house every single holiday that I lived in that house; they made those kinds of accommodations for youth depending on their individual situation. That's what being a good agency all is about.
The bottom line is ensuring that youth in care are given the same opportunities as any other. I can tell you that no other home that I lived in brought me to their families' house for holidays.
Frontenac goes the extra mile. The life skills that I learned while living at Frontenac have been useful to me to this very day. I'm an amazing cook because staff always encouraged us to help prepare meals. I'm great with my finances because staff gave me an allowance and showed me how to manage it. I turn lights off when I leave a room because staff always taught us that the light bill won't pay itself and I have three jobs and go to school full time because staff taught me that hard work and dedication is what will make me successful.
I owe my success to the staff and faculty at Frontenac Youth Services. I thank the staff at Frontenac Youth Services for everything that they did and continue to do for youth in care.
One Positive Outcome at a Time
— By a Durham Region Grade 7/8 Teacher
Mohammed used to go to school without the desire to learn, but now he's had a change of heart. I noticed that there is a different spirit in him because he's doing it for himself. He is at school every day with a great attitude and he works hard. He's always creating personal and academic goals and achieving them.
Shortly after the positive change, I discovered that Mohammed had been attending Frontenac Youth Services with the ongoing support of his family.
It's a shame that Frontenac Youth Services cannot work with more families like Mohammed's due to funding cuts from community partners and government industries. One of the results of these funding cuts is the closing of my classroom at the end of the school year, which breaks my heart to say the very least.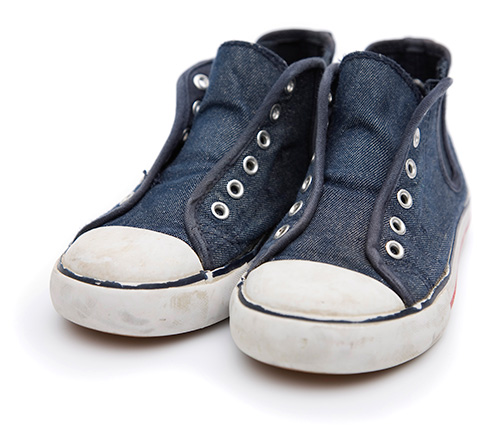 Build Yourself Up
— by Brenda
Hi, my name is Brenda* and I would like to tell you about my experience with Frontenac Youth Services. I came to Frontenac in 2011 because I struggled at school.
Since grade 5 I had been bullied at school. This really affected me because I didn't feel like I could talk to anyone. I was deemed a "selective mute" because of the anxiety and shyness I suffered from. I felt useless.
By grade 7 I had thoughts of suicide. Then in grade 9 I couldn't handle it anymore and I just stopped going to school. This lasted almost 2 years at that time I felt like no one could help me and I couldn't help myself.
I was then referred to the Frontenac classroom at Central High School. I was shy and nervous, I didn't trust anyone.
With time I was able to open up to the teacher and Child and Youth Worker in the classroom. The CYW, Richard taught me to not care what others thought of me. The classroom also helped me to be more confident because I was allowed to try new things. My previous teacher would tell me what I had to do even if I didn't understand. But Richard's class taught me you could do whatever you wanted and you were capable of anything.
After a few months in the classroom it was decided that I should go and stay at the residence. I was devastated. I felt worthless. I felt like my mom just gave up on me. I was depressed my first few weeks in the house. I was feeling so upset and down that I made threats to harm myself. But with the support and willingness of the residence staff I was able to overcome this.
They taught me that it is okay to be weird. And they showed me new techniques to help me deal with my anxieties. It also helped that I made lifelong friends in the program. Some these friends I still talk to daily but others are no longer with us. I will cherish their memories forever.
Speaking of memories I will never forget the trip to Niagara Falls that the staff took us on. Or the Christmas dinner and celebration. I loved how the staff made it feel like you were a part of a family.
After six months of hard work I was able to move back home. This made me feel excited and proud but also nervous. I was able to feel more confident of my achievement because Frontenac and Resources for Exceptional Children found me a respite worker. This meant a lot to me knowing I had someone that I trusted to support me during the move. It allowed me to be more independent and confident in myself because I knew I had someone to talk to and hang out with after care. It made going home a lot easier.
Being a part of Frontenac I was able to gain my credits for school and move out of a special needs classroom and into just a regular mainstream school path. I remained in mainstream until I graduated from my home school. I received my certificate along with I was recognized with 4 awards. This included the highest mark in workplace math, the personal achievement award and a grant to use for post-secondary education.
After this I went on an applied to college. Which is where I am today. I am currently studying at Sir Sanford Fleming College to be a Developmental Services Worker program. My goal is to help teach people with disabilities in the future. None of this would have been possible if I hadn't gone to Frontenac and accepted their help.
I am Brenda and this is my story. It is only one of the hundreds that Frontenac has to share but it means a lot to me to have been able to share it with you.
-by Brenda
*Due to confidentiality, Brenda is an alias name of a former client for Frontenac Youth Services.
Support for Nicolas
— By Susanna Gauthier, parent/ mother/ advocate
To the Frontenac Classroom staff,
Our family has been in crisis mode since my son — Nicolas — was 9 years old. Nicolas has multiple mental health diagnosis's, and several learning disabilities. He required a lot of support both at home and at school. Fortunately for our family, we received the necessary supports and our home life has significantly improved. We are now labelled a "typical" family.
Although Nicolas' life at home has stabilized, he still requires ongoing support(s) at school. Academics present a major challenge for Nicolas. His academic success depends entirely on his continued placement and involvement with the Frontenac classroom at Dunbarton High School. Since his introduction into the program, completing high school has become a tangible reality for Nicolas.
Regular high schools do not provide the level of support that children like Nicolas need to succeed. I have witnessed Nicolas' success while in the Frontenac program. His learning disabilities were so severe that he would probably never fully learn to read or write — yet today — in grade 10 with the support(s) of the Frontenac classroom, Nicolas is achieving 70-80% in all of his classes.
Nicolas has been registered in the Frontenac program since the end of grade 8. The Frontenac classroom provides an environment in which Nicolas has many opportunities to experience success. This success builds his confidence, not only in himself, but also in his abilities. Nicolas is now interested in his future and continuing success. He is looking at academic options after high school. Yet, according to many child psychiatrists who have worked with Nicolas; it was without any doubt that he would be involved with the criminal justice system by age 15. Thanks to the high levels of support(s) at home and school, this is not the case for Nicolas.
Our family is very fortunate to count ourselves among those who received, and continue to receive the support(s) needed to be successful. Unfortunately, because of limited funding and resources, the reality is that not every family is granted acceptance into programs such as the Frontenac Classroom.
Without the support(s) of the Frontenac school program, children like Nicolas will never get the chance to experience success. These children deserve equal opportunity to graduate. Funding to such agencies as Frontenac Youth Services, should continue. In-fact, the funding should be increased to reach a larger number of our youth.
There are many other children in our community who just like Nicolas are looking for their chance to succeed. Nicolas is a living, breathing testimonial that these programs make a difference.
Yours Truly,
Susanne Gauthier
GET HELP WITH FRONTENAC
Referrals for all treatment programmes are received from various social services agencies, schools, and/or physicians who are familiar with the youth and family. Parents and adolescents seeking help can also refer themselves via the Central Intake number below.
Most referrals go through Central Intake Services at
1-888-454-6275
HELP US HELP OTHERS
Your donations can provide much needed services and programming for youth in the Durham Region experiencing mental health concerns. Your generous support can assist in providing hope, treatment, and connection for some of our community's most vulnerable adolescents.